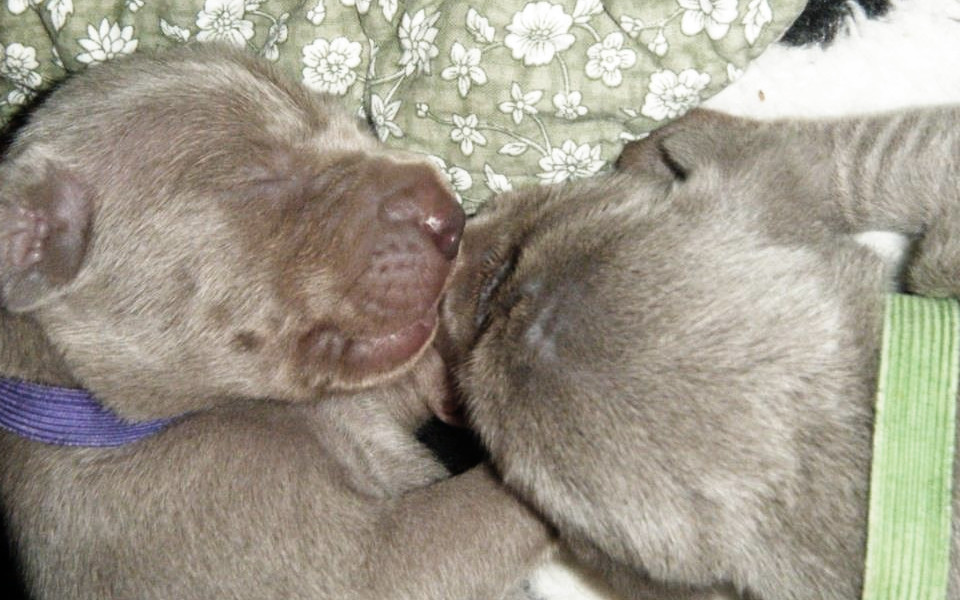 Puppies
I do not have any puppies at the moment, and do not have a litter planned for the near future, so if you are looking for a puppy, please contact one of the following breeders:
Rachelle Sanborn (Florida) www.greybornweimaraners.com
Susan Mitchell (California) www.GoodeKnight.com
Also check out breeder referral on the WCA website. https://weimaranerclubofamerica.org/breederreferral.php
I don't breed very frequently, usually having a litter only every 2 years or so. This is because I put so much time and effort into proving the breeding worthiness of the dogs I plan to breed. All breeding stock are screened and/or OFA certified for hips, elbows, heart, thyroid, and eyes, as well as being working therapy dogs. All have proven their worth in conformation, agility, hunt tests, field trials, or other performance events. I am an evaluator for Therapy Dogs International and a past evaluator for the AKC's Canine Good Citizen program. I am also an AKC hunt test and field trial judge, so am uniquely qualified to assess both temperament and field ability.
Planned Breeding:

Yetta, GCH Silberkinder Yetanother Distraxion CD, BN, RA, JH, CA, BCAT, NRD, V (OFA Hips Excellent. Elbows, Heart, Eyes, Thyroid, HUU and HYPM normal. LHC negative)

&

Gus (AI from frozen), CH Ann's Magic von der Reiteralm, BROM (OFA Hips, HUU and HYPM normal. LHC negative)
For more information on my upcoming litter call me at 727-439-2986